Some 17,000 people in the UK suffer deafness, ringing in the ears or other ear conditions directly caused by excessive noise at work. The Control of Noise at Work Regulations 2005 require employers to prevent or reduce risks to health and safety from exposure to noise at work. The GB Health and Safety Executive (HSE) provide detailed guidance and what you must do to comply with the law.
Current UK noise risk at work management programmes are not working, as evidenced by insurance liability claims (£400 million in 2014), costs to the NHS (around £500 million pa) and the estimated total cost to the UK economy of around £5 -7 billion pa. There is also the additional cultural and social damage to the affected individuals.
Typical hearing damage claim settlements are around £5k-8k. HSE estimates that the true cost for each claim is often an additional £7k-29k.
These figures are particularly disturbing given that Noise Induced Hearing Loss (NIHL) at work is virtually 100% preventable. Consequently, the way risk is managed and reduced must change. The UKHCA is predicated on bringing together worldwide best practice and disseminating this information so that it can be applied in the workplace to reduce the current hearing loss carnage.
In the UK, HSE guidance on risk assessment has also changed. Organisations will be judged on measurable actions, not paperwork, measurements, ticked check-boxes or policy statements.
The key areas where improvements can and must be made are:-
Noise Control
Most organisations could reduce risk by 50% – 75% (3dB – 6dB) very easily and cheaply using current best practice noise control. Even where levels are still above 85dB(A), cutting noise from 95dB(A) to 92dB(A), for example, halves the risk. The main problem is attitude and a lack of knowledge. Ina surprising number of cases, self-financing noise control is possible.
Risk Assessment
Most current reports are very sadly lacking (confirmed by HSE research). Action plans are noticeable for their absence or poor content. It's not rocket science – this must change.
More information and downloads
PPE
Most PPE users are only getting a small fraction of the protection assumed (confirmed by HSE research) – which often means that they are still at risk even though everyone thinks that the problem has been solved. If information about how to improve the operational performance of PPE in the workplace is widely available and the reasons for the shortcomings addressed (quite simple), then the performance of PPE can be doubled or trebled at virtually no cost.
More information and downloads
Use Hearing Protection Correctly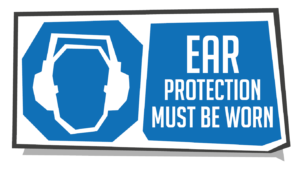 HSE research paper RR720 (2009) found that, in the workplace: 40% of PPE users got no protection whatsoever; the performance of much of the remaining 60% was inadequate; even with generally effective PPE use, 14% of personnel did not wear them.
The evidence reaffirms that real world protection is considerably lower than that quoted by the manufacturers (HSE 2009)
90% of NIHL is preventable with correct wear of hearing protection –INVC and HSE wear rate calculator (max protection in region of 9 dB(A)) (INVC 2009)
Whilst the legal level at which employers need to take action is set at an 85dB(A) dose, there is evidence that damage can begin to occur at 75dB(A) (WHO, EPA, ISO documents)
Evidence from HSE research (2008) found that in a sample of 19 organisations surveyed the range of compliance with the Noise at Work Regulations ranged from 50% to 100%. Common shortcomings were noise surveys that did not allow individual exposures to be estimated, insufficient awareness raising and training of workers to recognise risks of noise and protect themselves properly any plans for continuous improvement.
Video: When hearing protection is over specified
Video: Over specified hearing protection contributes to workers death
Buy Quiet
Probably the most cost effective long term noise control measure a company can implement. Organisations should use this to put pressure on suppliers to design quieter machines. As it is working well in the field of hand-arm vibration (as there is no PPE, it has focused minds), there is no reason why it cannot be made to work well for noise.
More information and downloads
Instruction manuals (English text starts at p.30)
Training and Education
Effective training should ensure that those exposed to high levels of noise, both at work and in leisure pursuits, really and graphically understand the risks and harms to themselves as individuals. In addition, supervisors and managers must understand the key best practice elements and how they should be applied and policed.
More information and downloads
The UKHCA have developed a Protect your ears for life! school education programme.
Webinars
Listen up! Let's make a noise about NOISE!!
A series of webinars in association with the British Occupational Hygiene Society
The UKHCA teamed up with the British Occupational Hygiene Society to put on a series of webinars on important topics around noise exposure, health impact and noise management.  Find the links to the series below.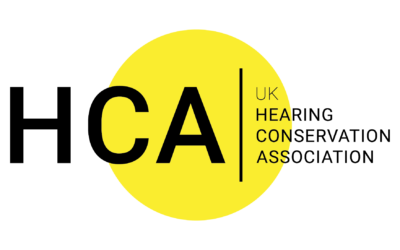 To support those in construction and other industries to tackle noise the UKHCA have produced a series of frequently asked questions.  This guidance covers; How to tackle noise in construction, measuring noise, controlling noise and the use of hearing...
read more
5 ways to protect your Hearing
With the World Health Organisation (WHO Report ) suggesting that more than 1 billion of us are at risk of permanent hearing loss here are 5 ways you can protect your hearing.
1.
Firstly, test your hearing. Try the easy, free app, hearWHO (Link to hearWHO app). Keep a record of your score and retest yourself every six months or so. If you are worried about your hearing see your doctor.
2.
Try to avoid exposure to loud sounds/long periods of exposure. Loud sounds are common at live events, music and motorsport, when shooting, using power tools, lawn mowers and riding motorcycles. If you are attending, taking part or using noisy equipment make sure you wear hearing protection.
3.
A common source of large sound doses is from using headphones. Consider timing how long you are using your headphones are and check out your listening levels. It may help you to download a hearing safeguarding app, which will total the time and level for you, and let you know when you're overdoing it.
4.
Upgrade your ear buds to good quality 'over-ear' headphones which will reduce the background noise so you can listen at a lower level. For the noisy public transport consider buying active noise cancelling headphones.
5.
When you go to live music events take hearing protection with you and use it when the support act is on to give your ears a break and leave them fresh for the main attraction.