The 3rd March is World Hearing Day. In 2019 the theme for the this day is , the importance of early identification and intervention for hearing loss.
Many people live with unidentified hearing loss, often failing to realize that they are missing out on certain sounds and words. Checking one's hearing would be the first step towards addressing the issue.
All people should check their hearing from time to time, especially those who are at a higher risk of hearing loss such as adults above 50 years, those working in noisy places, those listening to music at high volumes for long periods of time and those experiencing ear problems.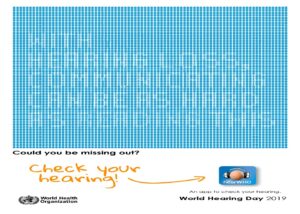 The hearWHO app is now available for free download on Apple store and Google playstore. The app offers an easy to use tool to check hearing, based on the validated digits-in-noise technology.